As their market consolidates, short-term rental actors need tools to operate efficiently, fast and at scale. I.e. they need to automate as much as possible.
Chatbots are capable of managing conversations using natural language. So, they're especially fit to handle some of the heavy lifting operations, leaving phone operators free to focus on high-value caring tasks. Let's see how.
A new market
AirBnB and their competitors revolutionized how we go on vacation. No need to mention how they did it.
Here we describe the other revolution, that took place on the opposite side of the counter: it's much easier now to put an apartment up for rent. Demand growth and ease of platform use allowed many to become landlords, achieving good or fair occupancy ratios, without being a professional.
For guests, this means experiencing very different stays, depending on the host's idea of hospitality.
Sometimes we're cuddled as if the host was our favourite aunt, spoiling us with every attention and home-baked delicacies.
Sometimes we have to deal with landlords that keep using the apartment as if it were at their disposal, entering without warning to do their laundry.
Sometimes we enter apartments that are left to their destiny. They're not cared after when damaged or when a tea cup disappears, and they soon become unwelcoming.
Luckily, thanks to booking platforms, both hosts and guests can now avoid major let-downs.
Distributed hotels
Fast market growth favoured the appearance of businesses managing tens or hundreds of apartments, because centralized management offers a series of advantages:
Economy of scale is possible in customer support, maintenance, tax an legal compliance.
Professional handling reduces the accidents listed above.
Property owners managing multiple apartments can now delegate the job and sleep well, and enjoy the luxury of turning their phone off.
We call such businesses "distributed hotels", because they manage in a centralized fashion a number of accommodations that are spread across multiple locations rather than concentrated in the same building.
They do almost what a traditional hotel does, with a few exceptions:
their geographical span,
they don't offer standard rooms but unique apartments,
they have custom check-in policies.
New challenges
Internal processes evolve accordingly, in order to address issues that standard hotels don't have. Let's concentrate on the most apparent one: check-in management: how to allow a pleasant arrival to the apartment even if the reception (if any) may be several miles away?
Opening more than one reception is an option. This way every apartment ill have one reasonably close. But we have to duplicate keys or to keep track of where they are, and channel guests to the right reception for their apartment. On top of that, we have to hire more receptionists.
Guests are often given the option of checking in at the apartment. Someone is sent there with the keys, but doing this requires taking an appointment and having transportation means.
We could allow the guest to open the door without a physical key instead. Electronic locks eliminate many problems apparently, but require carefully thought emergency plans in case of failure.
Many ways of serving our guests may mean many ways to disappoint them. Even if they are experienced AirBnB customers they have no way to know, until we tell them, if this time they will be welcomed at the door, or they will have to fetch the key at the reception, nor if the reception has opening hours.
It is not uncommon that the the guests were helped by others (an assistant, a relative) for the reservation, and they don't even know they've booked an apartment. When they land thy look for the street, the number... and then they call in anger because they found the closed gate of a flat building instead of sliding doors and a counter.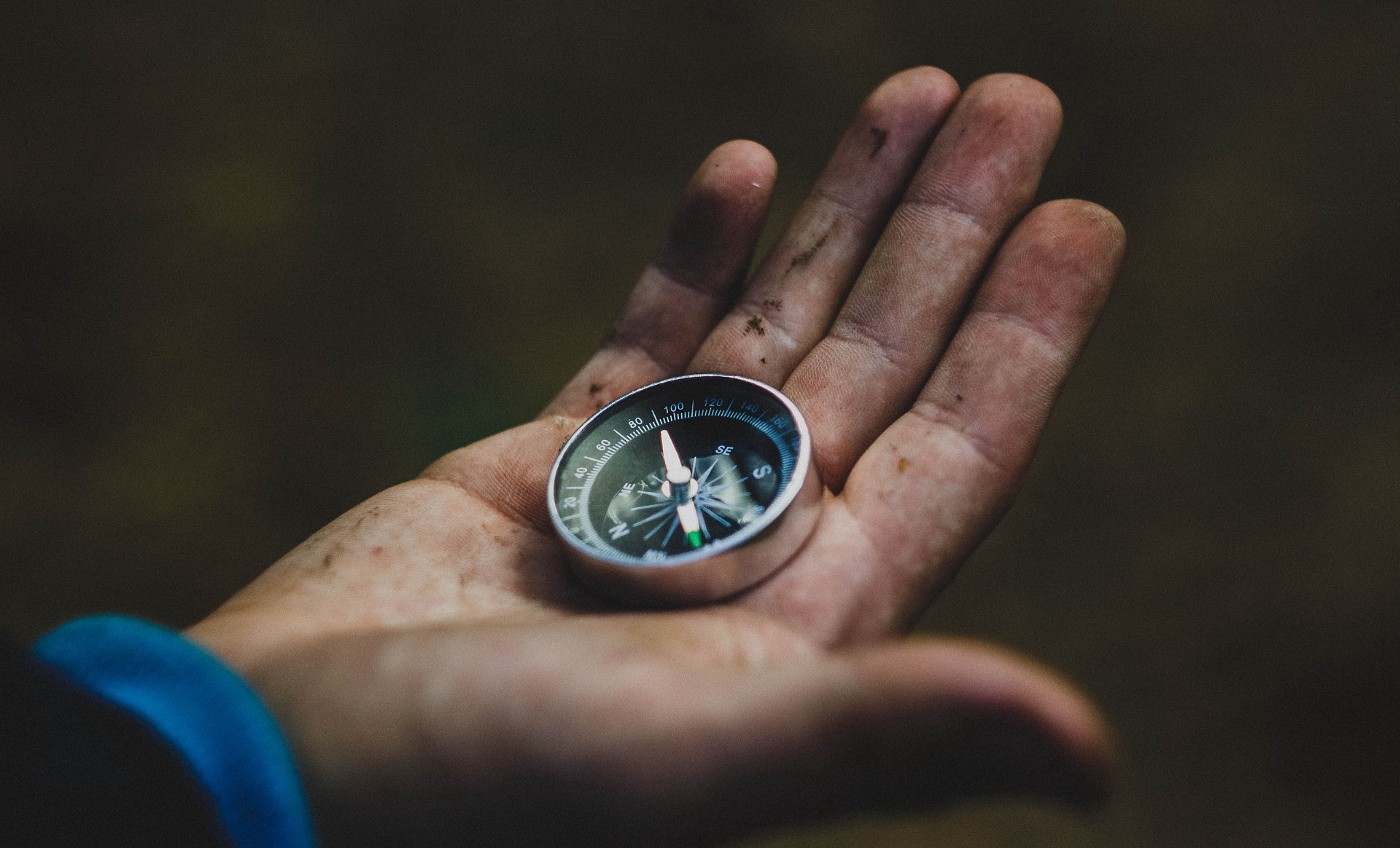 In a few words: we need to provide guests with much information before they arrive. We cannot rely on the classic preparation email two days before the check-in, because today people often don't plan. They look for information just when they need it.
The most demanding activity in a distributed hotel is customer support. It encompasses a phone contact before the arrival, logistic information, check-in, related paperwork, managing requests, complaints and emergencies.
In general these activities "scale" poorly. It is true that a distributed hotel is more efficient than a host managing two or three apartments, but it still needs to allocate to customer support an amount of resources that is proportional to the number of apartments. Check-ins and issues grow with the number of rentals.
Chatbots to the rescue
It is possible to alleviate customer operations with old and new kinds of automation, like having the management system send autonomously guest data to public security servers, or extracting personal information from IDs via OCR to speed up the check-in.
Historically, the hardest activities to automate are accomplished at the phone: we can all tell horror stories featuring an Interactive Voice Responder (IVR) of a phone or energy company.
Luckily, Natural Language Understanding (NLU) allows for great endeavours where IVRs fail miserably.
Let's take a look at typical answers given by a distributed hotel's customer service:
"You have to make an appointment if you want to check-in at the apartment. I have to send you someone to wait for you."



"Our reception closes at 7 PM, if you arrive later, I'll schedule an appointment at the apartment"



"It takes 15 minutes to walk to the apartment from the reception"



"From the airport you can reach the reception by bus #N"



"To get to your apartment, please go through the court, take the stairs on the left to the second floor, then all the way through the corridor. You'll find a door with our logo"



"I'm sorry, we're not a hotel. You booked an apartment, and your keys are at the reception, located in ..."
We can automate the preliminary contact the day before the arrival.
In the traditional process, this contact is made by phone, and it benefits:
the property manager, that can plan the check-in and related trips to deliver keys and contract,
the guests, because it spares them last minute surprises.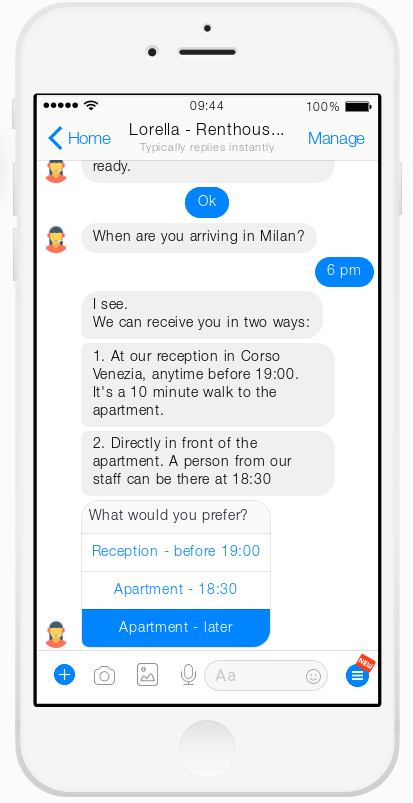 Customer support people can be relieved from
telling house rules,
making appointments,
guiding guest to reception and apartment,
giving info on public transport.
They can focus on activities where their humanity has bigger value instead: Managing emergencies and special cases, when creativity or sensitivity are required.
Scenarios
First contact
In order to have a useful chatbot, we need the guest to care about it. We don't want it to be ignored like the contact email, so its conversation must be designed carefully. Especially how it starts.
How to start the conversation depends on the channel chosen by the distributed hotel. If contacts come from Facebook, the most natural way to get back to the guest is a direct message on Facebook Messenger. If they come from a web page, the chatbot may reside exclusively on that page, an start the conversation with a text message that links to it.
Both approaches are complementary, they can be used at the same time. texts in particular have become the best way to get attention, because nowadays all conversations among friends moved to apps. It's also an excellent fallback to Messenger direct messages, because Facebook limits the time frame and the number of messages we can use to interact with a non-responding receiver.
Info
The bot can become the main information hub about our distributed hotel, the apartment, the location, local transportation, events, special deals...
The boundary between support and upselling tool can become as blurred as we deem appropriate, according to our company strategy.
An informative bot has value beyond the first contact, and it can support the guest throughout their whole stay.
Companywise, the informative bot can also be used as a quick reference tool for operators.
Appointment
Managing calendars is key in distributed hotel's logistics. It's been one of the favourite use cases since the Semantic Web an Software Agents times. Today this kind of systems are even better at their job thanks to NLP.
Integrating booking and info in a single conversation is now (waiting for an easy payment management like in China) the most valuable feature for a distribute hotel.
Customer Care
When guests are upset for whatever reason, we do NOT want them to interact with chatbots. Understanding precisely a problem and suggest an appropriate solution requires a person. In the support field all conversations must be supervised by a human, ready to pick them up when the situation requires it.
A bot can be a good, fast channel to detect problems.
If guests have an accessible means to complain and to ask for help, they will less likely be frustrated and ranting on social media. With the same effort, writing to the bot, they may at least hope for a solution. Messaging apps are already being used to receive pictures of damaged furniture, and chatbots may be more a proper way to convey this data to our CRM.
Conclusions
For distributed hotels preparing to manage apartments on a large scale, chatbots can be very useful. They can reduce customer support costs, by dedicating operators to the most valuable interventions: problem solving and special requests.
A chatbot may just manage bookings, or be extended to informative tasks, marketing, just for guests or for employees as well.
---
This article covers some of the topics of the talk titled "Appuntamento con il bot — Semplifichiamo la nuova ospitalità", organized with Milano Chatbots and Serverless Italy meetups. The talk deep dived on the booking use-case and on service scalability.
You can find slides here (in Italian).
This article was originally published in Italian on ConvComp.it